Shopify Plus
My Cube Safe
For generations, Mycubesafe has been entrusted with the important task of safeguarding what people hold most dear. More recently by reimagining the look and function of modern safes and integrating cutting-edge technology.
Why Rainy City
The team at Mycubesafe had been experiencing obstacles with a pre-existing headless setup, which was difficult to use and hampered their day-to-day running of Shopify Plus.

Rainy City proposed a strategic solution to overhaul the headless architecture and rebuild the front-end from the ground up, leveraging Shopify's latest 2.0 features and focusing on CRO.

Project Highlights
CRO auditing

UX best practice improvements

Bespoke theme development

Rebuy integration

Klaviyo integration

Custom product bundler

Ad landing pages



The challenge
The complexities of the pre-existing headless setup impeded the Mycubesafe team's productivity, hindering their ability to concentrate on core operations and driving growth.

Alongside ensuring improvements to the team's workflows and productivity, a migration poses a number of technical challenges.

We analysed the existing site structure under the headless setup which included on-site data, existing search engine rankings and generally how traffic sources were interacting with the site and converting.

Simplified Architecture
The migration away from the headless setup eliminated the hindrances that were slowing down the Mycubesafe team's productivity and allowed us to focus on optimising the website for growth.

With Shopify's inbuilt features, Mycubesafe gained the ability to swiftly deploy and update new features.

A Focus on Growth
Taking a data first approach, we set about deploying a number of improvements including a restructured navigation, an overhaul of the product detail page and various site-wide enhancements such as trust signals and abandon cart pop-ups.
Improving AOV
We partnered up with Rebuy to drive a boost in a AOV by leveraging their intelligent, AI driven product recommendations across every stage of the user journey.

In just 90 days, we've seen a 6% increase in AOV using Rebuy's product discovery engine across key areas of the website.

Product Bundles
We identified an opportunity to enhance both AOV and customer offerings. We developed custom bundle functionality that enables the team to swiftly deploy curated bundles of perfectly
"We have scaled to multiple 7 figures per year since starting working together. They are super easy to communicate with and always very responsive. They are without a doubt our go to Shopify Experts."
Alex Stark | Ogee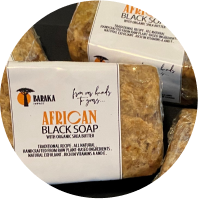 "*AMAZING* *Five-Stars* Neither goes far enough. So happy. Completed ahead of schedule and beyond expectations. Thank you Rainy City! I was so nervous about doing a new website. The cost. The complexity. This was compounded because we were a small but dispersed business with key players in North America, Europe, Africa and Asia.

The Rainy City team made it all so easy. Highly, HIGHLY recommended."
Wayne Dunn | Baraka Shea Butter
"We've had such a wonderful experience working with Rebecca and the team on our transition to a shiny, new Shopify website. They are so knowledgeable and really worked for hand in hand with us to solve tricky design problems and turn our vision into a reality. We couldn't be happier with the final result!"
Ellie Lum| Klum House
"Rainy City took our digital presence to next level and created a clean, crisp, robust, modern (and fast) website despite the thousands of products we have in our collection. They took the time to listen & understand our needs and give us proper guidance on how best to implement them. In our first month after launch, our sales have increased significantly! Happy to recommend them to anyone looking to build or re-design an existing site. Plus, we worked with them 100% remote being in the US!"
Peter Manka Jnr | Ben Garelick
Lets get to work
Ready to discuss the finer details? Let's talk Shopify.
Contact us
Get in touch
UK: 0800 5202 212 | USA: 929-999-5854
Email: hello@rainycityagency.com
Book a call