Shopify Plus
Baraka Shea Butter
Since launching the site, revenue has increased by 96%, CR increased by 21% from the previous year.
Baraka creates handcrafted oils and butter straight from the source to develop natural products that are great for your skin and have a direct impact on Ghanaian communities.
How we did it?
We worked closely with the team at Baraka to develop an updated design for the store, we undertook lots of meetings with ideas and brought them together.
There were a lot of areas we looked to highlight and improve :
User experience for desktop and tablet
Long-form product pages
Easy to use navigation that allowed us to make the content much more digestible
The challenge
The original Baraka site was very heavy on content and information, as a mission-led brand, they put a great focus on their brand values, history and goals.
Baraka is a community-led project selling natural and organic shea butter from Ghana, every product purchased from Baraka helps the women and communities that make it.
Creating a better customer experience
WorkingWhen creating Baraka's new store on Shopify, we had a lot of content to work with so it was important that we didn't lose any of it and that we presented it in a way that told the Baraka story. We utilized landing pages to help split the content out, along with tabs to create a better visitor experience.
Your favourite products wherever you live
As Baraka have customers all over the world, we implemented GEO IP detection to make it easier for customers to shop wherever they live, utilising Shopify Plus and checkouts we were able to create a seamless transition for users across the globe.
Streamlined content layout
Our design and development work created a premium user experience that highlighted the Baraka story throughout the site. Utilising long form product pages and integrated videos to show how products work and what impact they have on local communities.
The results
Since launching, revenue has increased 98%, AOV 16% and CR 21%.
21%
Increased conversion rate
98%
Increase of total orders
"We have scaled to multiple 7 figures per year since starting working together. They are super easy to communicate with and always very responsive. They are without a doubt our go to Shopify Experts."
Alex Stark | Ogee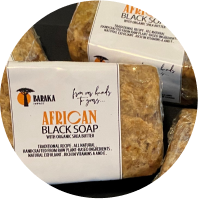 "*AMAZING* *Five-Stars* Neither goes far enough. So happy. Completed ahead of schedule and beyond expectations. Thank you Rainy City! I was so nervous about doing a new website. The cost. The complexity. This was compounded because we were a small but dispersed business with key players in North America, Europe, Africa and Asia.

The Rainy City team made it all so easy. Highly, HIGHLY recommended."
Wayne Dunn | Baraka Shea Butter
"We've had such a wonderful experience working with Rebecca and the team on our transition to a shiny, new Shopify website. They are so knowledgeable and really worked for hand in hand with us to solve tricky design problems and turn our vision into a reality. We couldn't be happier with the final result!"
Ellie Lum| Klum House
"Rainy City took our digital presence to next level and created a clean, crisp, robust, modern (and fast) website despite the thousands of products we have in our collection. They took the time to listen & understand our needs and give us proper guidance on how best to implement them. In our first month after launch, our sales have increased significantly! Happy to recommend them to anyone looking to build or re-design an existing site. Plus, we worked with them 100% remote being in the US!"
Peter Manka Jnr | Ben Garelick
Lets get to work
Ready to discuss the finer details? Let's talk Shopify.
Contact us
Get in touch
UK: 0800 5202 212 | USA: 929-999-5854
Email: hello@rainycityagency.com
Book a call